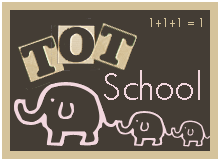 I never think I have anything to post for Tot School until I look at my photos from the week. This week went by so fast. I had a lot more planned, but it didn't happen.
R had fun counting with m&ms while we read The m&ms Counting Book by Barbara Barbieri McGrath. Check out my
post
about this book.
I'm not sure this qualifies as Tot school, but R had her first haircut this week and she did so well. I can't believe she passed on the shampoo and scalp massage though; I so enjoy a good scalp massage.
We bought this neat map that holds state quarters. Someday I will post about my obsession with teaching my children geography. Let's just say that I am geographically challenged (thank you public schools) and I want my children to be more knowledgeable about the world. R was not very interested in looking at the different quarters, but she did enjoy putting the quarters in the map. She was also very proud of herself for remembering the names of the states. We had four different state quarters this week.
We went to the zoo this week and R laughed hysterically watching the otters play. I have to find a good book about otters (fiction or nonfiction - suggestions are welcome!) because my children always enjoy watching the otters.
We read
Ten Black Dots by Donald Crews
and used black pom poms to count the different objects in the book. Check out that
post
too!
Is there a better way to end the week than with homemade chocolate chip cookies? Would you feel the same way if I told you that C and R licked those spoons and then put them back in the bowl? I tried to prevent that, really I did.
Thank you,
Carisa
, for hosting Tot School!