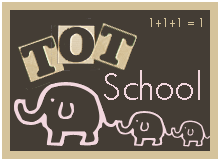 I bought this cute teddy bear puzzle months ago from the dollar section at Target. While the puzzle is really easy, what I really love about it is the different expressions on the faces. R loves to dress the bear in different outfits and then I will ask her if the bear is happy, sad, angry, sleepy, surprised, or ill.
We planted sunflower seeds and read
Big Yellow Sunflower
by Frances Barry. R hates to get her hands dirty and she was not thrilled with this activity at all. Hopefully, she will get excited about it when the sunflower starts to grow. I know it is my fault that she doesn't like to get dirty because I do not like to get dirty either and I am embarrassed to admit that I do not do yard work.
I cut out pictures of fruits and vegetables from a grocery circular and R sorted them into one pile for fruits and one pile for vegetables. Then she glued the vegetables onto the letter V.
Since I put the magna doodles and magnetic boards up on the lovely paneled (circa 1978) wall, they get a lot more use. I used Scotch Reclosable Fasteners (like velcro) to hang them so that they can also be removed to take in the car. I got the idea to hang them from Jennifer at My Two Happy Homeschoolers.
We measured a cup of penne and a cup of rigatoni in straight lines and were amazed by the difference in length. Check out
my post
if you want to learn more.
Cranium Hullabaloo is a favorite in our house and we play a lot.
The potato heads were played with every day this week.
We put some "Magic Creatures" in water and
charted their "growth
". Today is day 4 and the caterpillar has doubled in size to 6", the fish grew another 1/2" to 4 1/2", and the lizard grew another 1 1/2" to 12". The butterfly only grew one day and has remained at 3" since then. C and R are still excited about measuring the creatures every morning.