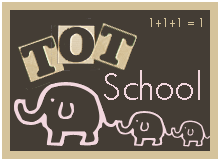 R spotted this set of Guidecraft individual puzzles (I'm not sure what they are called because I was unable to find them online) at a local consignment shop and they have been well worth the $2.00 we spent on them. She has spent a lot of time matching the pieces, lining them up, and sorting the colors.
R loves
pop beads
and they are great for fine motor skill work.
We were lucky to have some warm weather this week and R played in the water table. She spent a lot of time pouring water from one container to another and then watering the trees in our yard.
R also poured, scooped, spooned, and transferred beans a few times this week.
We also enjoyed reading
Fletcher and the Springtime Blossoms
by Julia Rawlinson and making
springtime pictures
. In case you can't tell, this is a few trees and the beautiful pink and white blossoms that are falling from the trees. I'm sure you knew that though.
We have also been talking about traffic safety all week. I don't have any photos but we talked about and role played how to cross the street, riding safely in a car, and why we have traffic signs and lights. I plan on borrowing some books on the subject from the library to continue our discussion/learning so let me know if you have any recommendations!
See you next week.